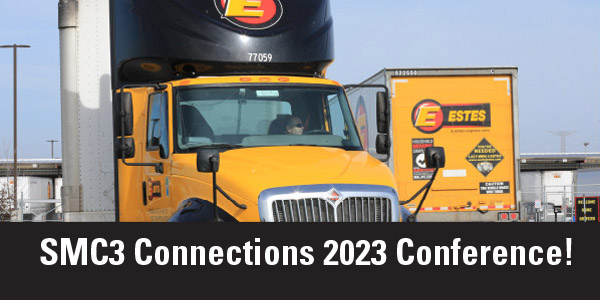 Estes President and COO Webb Estes and Director of Customer Success Sam Ralat will be featured speakers at the 2023 SMC3 Connections Conference. The three-day event will include presentations from thought leaders across the transportation industry on issues related to collaborative supply chain intelligence.
Estes was selected to be a Connections Leadership Series speaker and will share his industry insights in The Drive To Excellence session on June 28, 2023. Ralat will speak the same day on the Roadmap to the Digital Bill of Lading panel, which will focus on the standardization, simplification, and automation of the LTL industry.
SMC3's annual event provides industry education and networking opportunities for carriers, shippers, logistics service providers and technology providers. Learn more.
About Estes
Estes is the largest, privately owned freight carrier in North America. As an asset-based transportation provider with a global footprint, Estes always goes the extra mile to deliver reliable freight solutions and exceptional service that keep its customers coming back. Ethical and honest, with nearly a century of freight shipping expertise, Estes has worked through the decades to build a robust fleet and vast network of over 10,000 doors and 280 terminals. And the company's comprehensive transportation solutions are backed by its continued investment in technology resources, as well as the support of more than 22,000 fiercely committed employees. Estes offers comprehensive freight shipping solutions, including Less Than Truckload (LTL), Volume LTL and Truckload, Time Critical Guaranteed, Custom Shipping and Logistics, and Final Mile.
About SMC³
With its range of transportation technology solutions that integrate seamlessly into current business systems, SMC³ supports customers as they grow, whether they're dealing with 10 or 10,000 freight movements per day. Shippers and 3PLs use SMC³'s peerless solutions to optimize their freight spend, achieve unrivaled shipment visibility and streamline their transportation planning, saving time and money on their supply chain requirements throughout North America.