Estes Recognized As The Home Depot LTL Carrier of the Year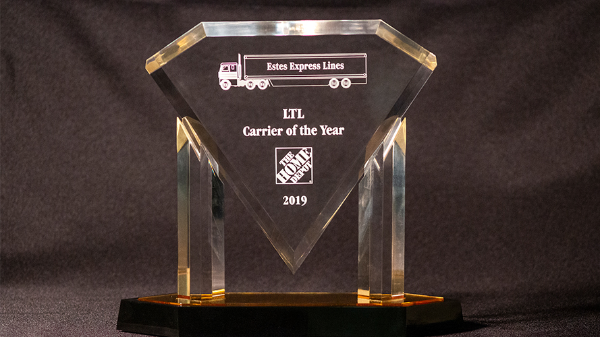 Atlanta, GA—Estes has been recognized as The Home Depot's 2019 LTL Carrier of the Year award. This prestigious honor is awarded to carriers who exhibit a commitment to excellence in the following areas:
• Service Performance
• Responsiveness to Issues and Resolution
• Creative Thought
The award was presented to Estes President and CEO Rob Estes during The Home Depot's Executive Carrier Council meeting in Atlanta, Georgia.
During the meeting, The Home Depot also acknowledged Estes for delivering consistent, quality service, even in adverse conditions: "To be recognized by The Home Depot is a tremendous honor and a testament to the employees who work so hard to provide exceptional service every day of the year," Estes said. "We truly value our relationship with The Home Depot and greatly appreciate this recognition."
About Estes Express Lines:
The nation's largest, privately-owned freight transportation carrier, Estes, is a go-to provider of end-to-end transportation and custom logistics solutions. Through a vast regional, national, international, and global footprint, Estes' comprehensive solutions include Less Than Truckload, Volume LTL, Truckload, Time-Critical Guaranteed, and Final Mile. Backed by nearly 90 years of industry expertise and financial stability, Estes delivers a better customer experience through flexibility and improved technology to best meet rapidly changing freight transportation needs. The Richmond, VA-based, fourth-generation company operates one of the newest fleets in the industry, and understands that its nationwide team of over 19,000 employees is one of its strongest assets.