Forbes Ranks Estes Express Lines One of America's Best Large Employers of 2019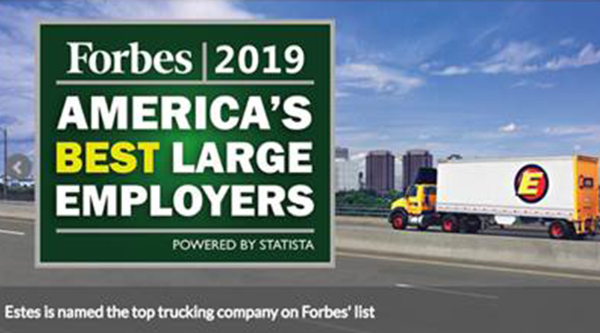 RICHMOND, VA—For the second consecutive year, Forbes has named Estes Express Lines as one of America's Best Large Employers. Estes jumped more than 300 spots to a ranking of 159, making it the sixth highest-ranked transportation and logistics company as well as the number one trucking company on the list.
Forbes based its America's Best Employers list on an independent survey of over 50,000 employees covering 25 industries. Survey participants worked for companies with at least 1,000 people in their U.S. locations, and they responded to open-ended questions about their employer.
"Such a high-profile recognition reflects the incredible team and family-inspired culture that we've been building since 1931," said President and CEO Rob Estes. "We take great pride in Forbes' announcement because it shows the effectiveness of our employee engagement initiatives. We believe that when we take good care of our employees, they take good care of our customers. And when our customers are happy, we can grow our company and continue to invest in our people."
"Our employees are the foundation of our organization, and define what truly separates Estes as an industry leader and an employer of choice in transportation," added Greg Richardson, Estes' vice president of human resources. "Our continued development of employee-focused initiatives surrounding acquisition, training, engagement, communication, and retention will ensure that we continue to employ the industry's top talent, and continue to be an exceptional business partner."
About Estes Express Lines

The nation's largest privately owned freight transportation carrier, Estes is a go-to provider of end-to-end transportation and custom logistics services. Through a vast regional, national, international, and global footprint, Estes' comprehensive solutions include Less Than Truckload, Volume LTL, Truckload, Time-Critical Guaranteed, and Final Mile. Backed by nearly 90 years of industry expertise and financial stability, Estes delivers a better customer experience through flexibility and improved technology to best meet rapidly changing freight transportation needs. The Richmond, VA-based fourth-generation company operates one of the newest fleets in the industry, and understands that its nationwide team of over 18,000 employees is one of its strongest assets. To learn about careers at Estes, click here.