Freight Transportation Made Simple
Looking for insight into the trends, services, and best practices that are shaping the future of freight transportation? We've got you covered. At Estes, our vast industry expertise is backed by 90 years of shipping experience, and a mission to provide flexible, responsive freight solutions to meet the evolving needs of our customers. Explore our white papers below to learn how to navigate some of the most common shipping challenges, improve your business' operational efficiency, and make freight shipping easier.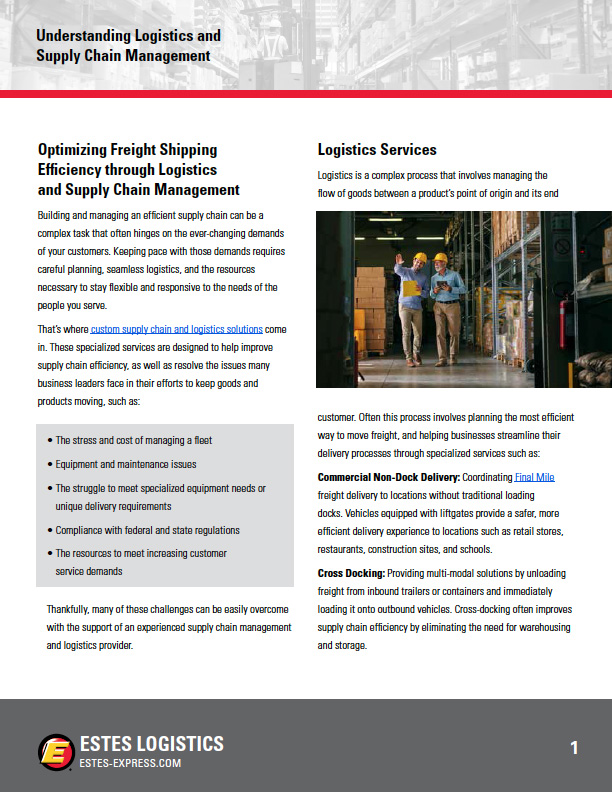 Logistics and Supply Chain Management 101
Are you looking to build a faster, leaner supply chain? We'll explore how logistics and supply chain management solutions can help you optimize your shipping operation, reduce costs, and stay flexible and responsive to the changing needs of your customers. Read this white paper to learn:
• Which logistics services might be right for your business
• The benefits of dedicated freight transportation
• The many ways flatbed transportation can improve freight efficiency
Read more about Understanding Logistics and Supply Chain Management.

Take the Stress Out of Cross-Border Canada Shipping
Are you arranging a freight shipment into Canada? We'll help you navigate the obstacles involved in cross-border shipping, and teach you how to identify carriers that can successfully manage them. Explore this white paper to learn:
• What to look for when shopping for a cross-border freight carrier
• The role of a customs broker, and whether you need one when shipping to Canada
• How to avoid delays when shipping across the border
Read more about Cross-Border Canada Shipping.