Arlington & Fort Worth's LTL Freight Shipping Experts
Terminal:  Arlington - ARL (193)
Address:   5200 E. Loop 820 South, Fort Worth, TX 76119
Estes offers next-day direct LTL shipping from the Arlington-Fort Worth area to Dallas, Houston, San Antonio, Oklahoma City, Kansas City, Memphis, Tulsa, Wichita, Little Rock—and more.
Next-Day Transit Map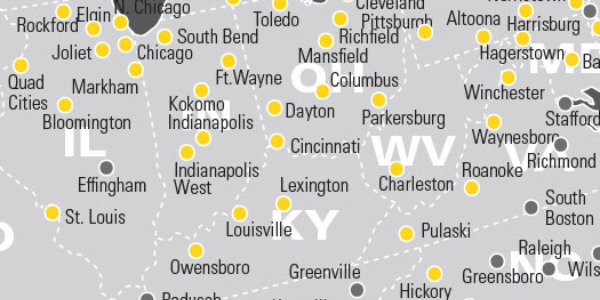 See Our Coverage
Opened in 2023, our Arlington terminal is designed to maximize capacity. Complete with 203 doors, this huge facility makes it possible to move freight directly from trailer to trailer—improving efficiency and eliminating the need to stage freight. What does this mean for our customers? Reduced freight handling, and a minimized risk of freight damage or shortage.
Estes is going bigger and better in Texas
We've also invested in a network expansion to deliver an improved shipping experience throughout Texas. As part of this expansion, Estes has enhanced Texas service by:
Opening two new terminals in the DFW Metroplex and relocating our San Antonio facility
Increasing our Texas terminal door count by nearly 50% since 2020
Increasing our Texas tractor count by more than 60% and our trailer count by more than 30% since 2021
Ready to ship? We offer a comprehensive range of freight shipping services:
Contact us today and we'll show you why so many companies in the Arlington-Fort Worth area trust their freight shipping to us. At Estes, going the extra mile isn't just what we do—it's who we are.