Fort Worth's LTL Freight Shipping Experts
Terminal:  Fort Worth - FWT (184)
Address:   5201 Lone Star Blvd, Fort Worth, TX 76106
Next-Day Transit Map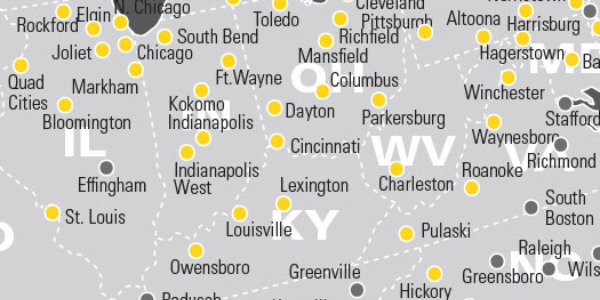 See Our Coverage
Estes is going bigger and better in Texas
We've also invested in a network expansion to deliver an improved shipping experience throughout Texas. As part of this expansion, Estes has enhanced Texas service by:
Opening two new terminals in the DFW Metroplex and relocating our San Antonio facility
Increasing our Texas terminal door count by nearly 50% since 2020
Increasing our Texas tractor count by more than 60% and our trailer count by more than 30% since 2021
Ready to ship? We offer a comprehensive range of freight shipping services:
Every day, we meet the shipping challenges of industries like food services, healthcare, retail, and construction. And we're fiercely committed to developing lasting relationships and delivering exceptional experiences.
Our company was built on values, but runs on trust. Contact us today to discover why Fort Worth trusts its LTL freight to Estes.