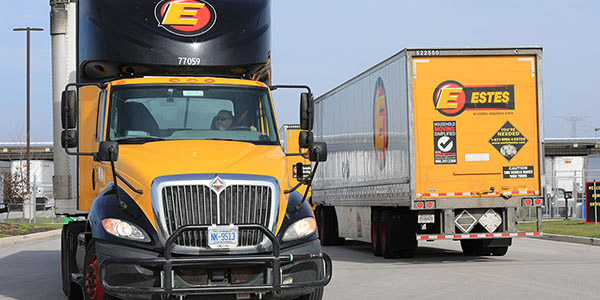 Today's shippers believe Estes provides the best value of all its national competitors, according to the 2023 LTL Carrier Customer Value and Loyalty Study, conducted by research company Mastio.
Mastio's annual LTL ranking identifies and quantifies the needs of LTL shippers throughout the U.S. and is a nationally recognized measurement of carrier performance, based solely on customer feedback. The study asks customers to rate carriers on a variety of metrics, including as on-time pickup and delivery, damages, shortages, pricing, billing accuracy, freight tracking capabilities, carrier responsiveness, customer service, and trustworthiness.
"We take great pride in the fact that today's shippers believe Estes provides the best value of all national carriers in the LTL industry," says Estes President and COO Webb Estes. "We're so happy to know our customers see how committed we are to going the extra mile for them."
The results of Mastio's survey also revealed Estes is the only national LTL carrier to improve across each of the study's top 10 performance categories. And the largest privately owned freight carrier ranked second place in Mastio's overall National Carrier ranking for the second year in a row.
"We're proud of the enhancements we've made this year to deliver an even better experience for our customers, but we want them to know we're not done yet!" Estes says. "We have so many more exciting improvements to come that will make freight shipping even easier in 2024."
About Estes
Estes is the largest, privately owned freight carrier in North America. As an asset-based transportation provider with a global footprint, Estes always goes the extra mile to deliver reliable freight solutions and exceptional service that keep its customers coming back. Ethical and honest, with nearly a century of freight shipping expertise, Estes has worked through the decades to build a robust fleet and vast network of over 10,000 doors and 280 terminals. And the company's comprehensive transportation solutions are backed by its continued investment in technology resources, as well as the support of more than 22,000 fiercely committed employees. Estes offers comprehensive freight shipping solutions, including Less Than Truckload (LTL), Volume LTL and Truckload, Time Critical Guaranteed, Custom Shipping and Logistics, and Final Mile.
About Mastio
Mastio, celebrating 34 years in business, specializes in providing an independent third-party perspective for clients who want to truly assess their corporate image, discover their perceived level of customer value, find new customers, understand the strengths and weaknesses of the competition, and supplement their market intelligence. Our strength is in helping clients re-think established norms, eliminate internal biases, collect and analyze data and transform market research into actions that achieve superior business results.