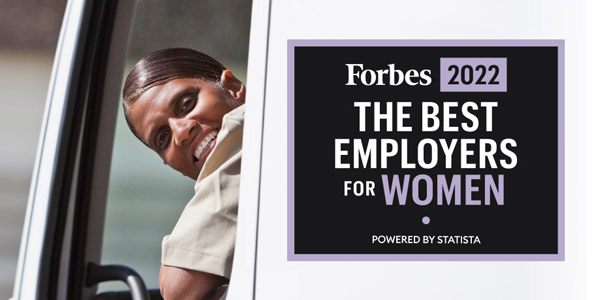 RICHMOND, VA—Global media company Forbes has named Estes a Best Employer for Women. This distinction comes from an online Statista survey of about 50,000 part- or full-time employees of companies and institutions with more than 1,000 U.S.-based workers. Such a high-profile recognition reflects the many opportunities that Estes provides for women in the logistics industry. Also a recipient of the 2021 Top Workplaces USA award, Estes is a nationally recognized transportation leader holding numerous industry performance citations.
"Women have performed in vital roles at Estes since the company's early days, so we're honored to be recognized by Forbes as one of the Best Employers for Women," says Vice President, Culture and Communications Sara Graf. "It confirms that whether they're on the dock, behind the wheel, in the office, or leading a terminal, women have opportunities here for excelling in their positions, developing successful careers, and making Estes an even better place to work."
Founded in 1931, Estes ranked as Forbes' top LTL carrier and fourth on the list's Transportation and Logistics category. Click HERE to see the full list.
About Estes
Estes is the largest, privately-owned freight carrier in North America. As an asset-based transportation provider with a global footprint, Estes always goes the extra mile to deliver reliable freight solutions and exceptional service that keep its customers coming back. Ethical and honest, with over 90 years of freight shipping expertise, Estes has worked through the decades to build a robust fleet and vast network of over 10,000 doors and more than 270 terminals. And the company's comprehensive transportation solutions are backed by its continued investment in technology resources, as well as the support of more than 22,000 fiercely committed employees. Estes offers comprehensive freight shipping solutions, including Less Than Truckload (LTL), Volume and Truckload, Time Critical Guaranteed, Custom Shipping and Logistics, and Final Mile.