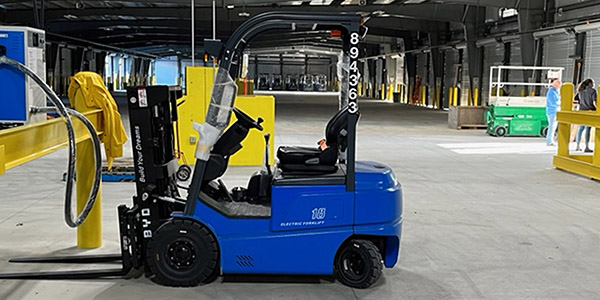 PHOENIX, Ariz.—Estes received the Salt River Project's Champions of Sustainability Award at a recent ceremony in Scottsdale, Arizona. North America's largest privately held freight carrier was recognized with his honor for replacing 54 propane-powered forklifts with greener electric models and installing 26 high-frequency forklift battery chargers. The Champions of Sustainability Award recognizes businesses who lead the charge in sustainability and innovation.
"At Estes, we believe in doing right by our customers and the planet," says Estes VP of process improvement, Webb Estes. "That's why we're proud to be investing in green initiatives that make freight transportation more sustainable."
About Estes
Estes is the largest, privately-owned freight carrier in North America. As an asset-based transportation provider with a global footprint, Estes always goes the extra mile to deliver reliable freight solutions and exceptional service that keep its customers coming back. Ethical and honest, with over 90 years of freight shipping expertise, Estes has worked through the decades to build a robust fleet and vast network of over 10,000 doors and more than 270 terminals. And the company's comprehensive transportation solutions are backed by its continued investment in technology resources, as well as the support of more than 22,000 fiercely committed employees. Estes offers comprehensive freight shipping solutions, including Less Than Truckload (LTL), Volume and Truckload, Time Critical Guaranteed, Custom Shipping and Logistics, and Final Mile.