CaroTrans LTL Carrier of the Year Award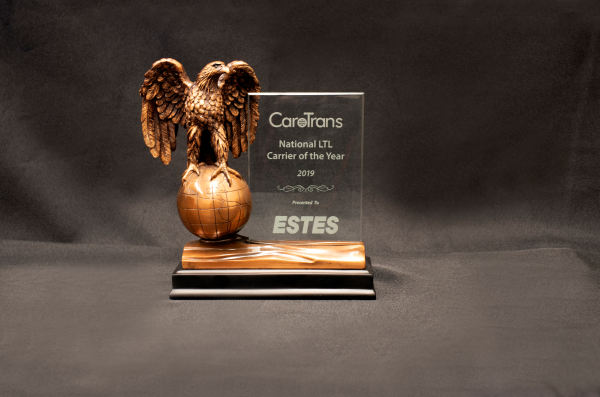 Richmond, VA – Estes Express Lines, America's largest privately owned freight transportation carrier, was recently named the 2019 National LTL Carrier of the Year by CaroTrans International, a trusted, global NVOCC (non-vessel operating common carrier).
This award recognizes carriers that demonstrate excellence in on-time service, tender acceptance, claim settlement, invoice accuracy and overall ease of doing business.
"We're honored to receive this recognition from CaroTrans International and value our relationship with the CaroTrans team," said Estes' President and CEO Rob Estes. "I'm incredibly proud of our entire team that supports them each day making sure their experience with Estes is exceptional."
About Estes Express
The nation's largest privately-owned freight transportation carrier, Estes is a go-to provider of end-to-end transportation and custom logistics services. Through a vast regional, national, international and global footprint, Estes' comprehensive solutions include Less Than Truckload, Volume LTL, Truckload, Time-Critical Guaranteed, and Final Mile. Backed by nearly 90 years of industry expertise and financial stability, Estes delivers a better customer experience through flexibility and improved technology to best meet rapidly changing freight transportation needs. The Richmond, VA-based fourth-generation company operates the newest fleet in the industry and understands that its nationwide team of over 19,000 employees is one of its strongest assets.
About CaroTrans International
CaroTrans International is a trusted, global NVOCC (non-vessel operating common carrier) that is dedicated to delivering timely, direct import and export global ocean transportation services. CaroTrans aims to provide essential, high value services that advance today's global supply chains and works continuously to strengthen the services available to their customers to boost satisfaction. CaroTrans' service portfolio includes: LCL (less-than-container load), FCL (full container load), breakbulk, and OOG (out-of-gauge) ocean transportation services. For more information: www.carotrans.com