Estes Express Lines Wins Multiple Industry Awards and Citations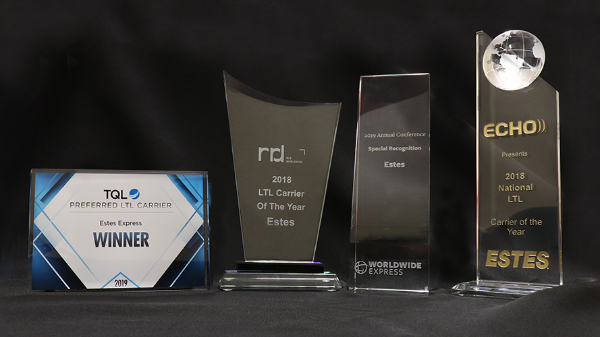 Estes Express Lines, America's largest privately owned freight transportation carrier has received several additional industry citations for outstanding performance and customer focus. As a preferred carrier for many third party logistics providers (3PL), Estes delivers industry expertise and transportation solutions tailored to the needs of these companies and their clientele
Estes' latest recognitions include:
Total Quality Logistics 2019 Preferred LTL Carrier – Estes consistently operated at the highest level of performance in the Preferred LTL Carrier program based on market share of TQL shipments, on-time percentage, claim percentage, and technology integration capabilities.
Worldwide Express 2019 Special Recognition Award – Estes was cited as a carrier that went above and beyond to service Worldwide Express customers.
RR Donnelley 2018 LTL Carrier of the Year – Estes' rankings excelled in various areas including on-time service, claims, missed pickups, customer service, and its relationship with RR Donnelley.
Echo Global Logistics 2018 National Carrier of the Year Award – Estes was recognized as an LTL carrier that best measured up to Echo Global Logistics' quality standards.
"These awards acknowledge that our delivery of responsive freight solutions is helping customers focus on what matters most," said President and CEO Rob Estes. "Our company was founded with the customers' needs in the forefront. And almost 90 years later, that's not going to change."
About Estes Express Lines:
Estes is the largest, privately-owned freight carrier in North America. As an asset-based transportation and custom-logistics solutions provider, Estes delivers responsive freight solutions across a vast regional, national, international, and global footprint. The Richmond, VA-based, fourth-generation company has nearly 90 years of freight shipping expertise and has worked through the decades to build a robust transportation network, a reputation for financial stability, and an award-winning safety record. Estes offers comprehensive freight shipping solutions, including Less Than Truckload (LTL), Volume LTL, Truckload, Time Critical, and Final Mile.