Estes Express Lines Wins National LTL Carrier of the Year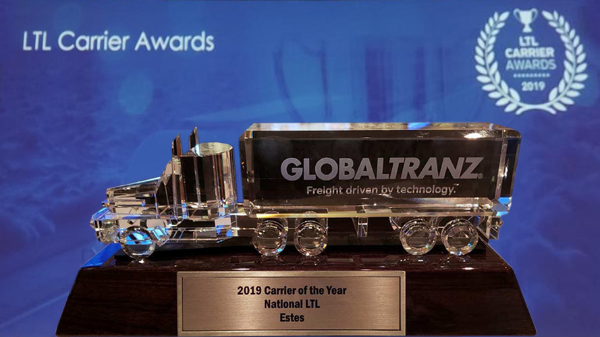 RICHMOND, VA — Industry-leading third party logistics (3PL) solutions provider, GlobalTranz Enterprises, named Estes the 2019 National LTL Carrier of the Year during its annual Freight Agent Conference this month in Scottsdale, AZ.
This award recognizes Estes' commitment to excellence in customer service, price competitiveness and flexibility, strategic partnerships and market leadership, technology, innovation, and new service offerings.
"Working with GlobalTranz has been a pleasure, and it is quite an honor to receive this award," said Estes' President and CEO Rob Estes. "Delivering exceptional service to our customers is the driving force behind everything we do, and we appreciate being recognized for these efforts."
An Estes affiliate company, Clear Lane, was also presented with an award for the 2019 Asset Lite LTL Carrier of the Year.
About Estes Express Lines
Estes is the largest, privately-owned freight carrier in North America. As an asset-based transportation and custom-logistics solutions provider, Estes delivers responsive freight solutions across a vast regional, national, international, and global footprint. The Richmond, VA-based, fourth-generation company has nearly 90 years of freight shipping expertise and has worked through the decades to build a robust transportation network, a reputation for financial stability, and an award-winning safety record. Estes offers comprehensive freight shipping solutions, including Less Than Truckload (LTL), Volume LTL, Truckload, Time Critical, and Final Mile.
About GlobalTranz Enterprises
GlobalTranz is a technology company providing award-winning cloud-based multi-modal Transportation Management System (TMS) products to shippers, carriers, 3PLs and brokers. GlobalTranz is leading the logistics software and services market in innovative technology that optimizes the efficiency of freight movement and matches shipper demand and carrier capacity in real-time. GlobalTranz has emerged as a fast-growing market leader with a customer base of over 1 million product users and 25,000 shippers.
About Clear Lane
Clear Lane Freight Systems, an Estes affiliate, was founded in 2012 by LTL industry veterans Tom Nagel and Ingi Torfason. The goal was to fill a need for economical long-haul LTL service. Ingi and Tom have the unique experience of having worked in both operations, quality and sales management for major carriers for decades. Their insight into the industry, skills, and relationships built during their careers laid the foundation for Clear Lane. Clear Lane continues to invest in technology and experienced staff. For more information, please visit www.clearlanefreight.com.