Estes Opens a New Terminal in Hagerstown, MD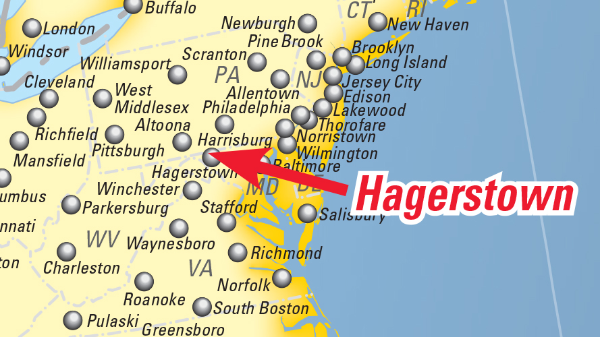 Estes is expanding its transportation network with the opening of a new terminal in Hagerstown, MD.
The Hagerstown location, slated to open in September of 2020, is strategically-positioned to support Estes' nearby terminals in Baltimore, MD, Altoona, PA, Harrisburg, PA, and Winchester, VA.
Complete with 84 doors, the Hagerstown location was selected to enhance Estes' shipping capacity, efficiency, and flexibility in a region that has seen increased demand in recent months.
"Even during these challenging times, we continue to invest in our terminal network," said Estes President and CEO Rob Estes. "We want our customers to know that we're committed to meeting them where they are, improving efficiency, and providing reliable freight solutions so they can focus on what matters most."
To support our new operations in Hagerstown, Estes is hiring for several positions, including supervisors, managers, drivers, dock workers, and mechanics. Interested candidates can visit work4estes.com to learn more about available positions and apply.
About Estes Express Lines
Estes is the largest, privately-owned freight carrier in North America. As an asset-based transportation and custom-logistics solutions provider, Estes delivers responsive freight solutions across a vast regional, national, international, and global footprint. The Richmond, VA-based, fourth-generation company has nearly 90 years of freight shipping expertise and has worked through the decades to build a robust transportation network, a reputation for financial stability, and an award-winning safety record. Estes offers comprehensive freight shipping solutions, including Less Than Truckload (LTL), Volume LTL, Truckload, Time Critical, and Final Mile.