Estes President Wins Person of the Year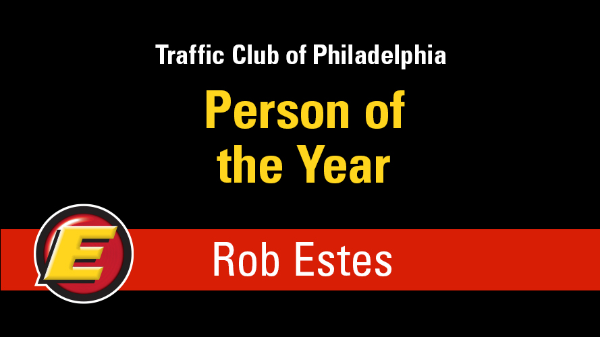 Philadelphia, PA -- Estes Chairman and CEO Rob Estes was named Person of the Year by the Traffic Club of Philadelphia in a ceremony on January 23, 2020 at the city's Union League.
The Traffic Club of Philadelphia has been honoring influencers in the transportation industry with this award for decades, and recognizes individuals who have made major contributions on a local, national, or global level.
"I am humbled to receive this recognition from the Traffic Club of Philadelphia," said President and CEO Rob Estes. "Their mission of promoting and educating others about the transportation industry is one I value and support. I'm so honored to be recognized for playing a part in that mission."
Founded in 1908, The Traffic Club of Philadelphia is one of the nation's oldest transportation clubs. The professional association promotes transportation, supply chain, and logistics by networking, sharing best practices, and providing educational scholarship grants to the next generation of transportation professionals.
About Estes Express Lines:
Estes is the largest, privately-owned freight carrier in North America. As an asset-based transportation and custom-logistics solutions provider, Estes delivers responsive freight solutions across a vast regional, national, international, and global footprint. The Richmond, VA-based, fourth-generation company has nearly 90 years of freight shipping expertise and has worked through the decades to build a robust transportation network, a reputation for financial stability, and an award-winning safety record. Estes offers comprehensive freight shipping solutions, including Less Than Truckload (LTL), Volume LTL, Truckload, Time Critical, and Final Mile.