Estes Wins Amazon's Customer Obsession Award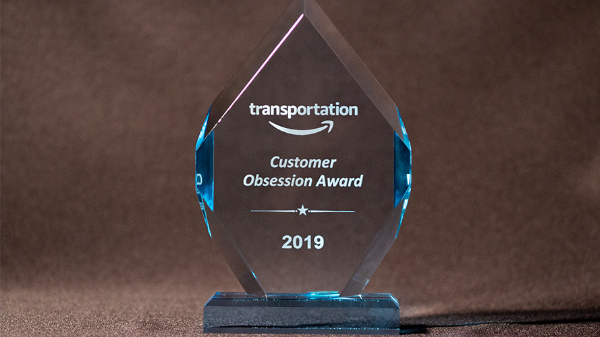 SEATTLE, WA— Estes was named the recipient of Amazon's 2019 Customer Obsession Award in a ceremony on February 6, 2020 in Seattle, Washington.
The award recognizes carriers who not only meet, but exceed Amazon's criteria for earning and keeping customer trust:
• Having a Can Do Attitude
• Forging Great Partnerships
• Providing Solutions to Satisfy the Ultimate Customer
• Going Above and Beyond to Achieve Greatness
Estes received the highest ratings in these categories over 12 other national shippers.
"We are so honored that Amazon has recognized us with this award," says Estes President and CEO Rob Estes. "From day one we have been committed to not only building trust, but also forging lasting relationships with our customers. It means so much to us to be working with a company whose values are in such alignment with our own."
About Estes Express Lines:
The nation's largest, privately-owned freight transportation carrier, Estes, is a go-to provider of end-to-end transportation and custom logistics solutions. Through a vast regional, national, international, and global footprint, Estes' comprehensive solutions include Less Than Truckload, Volume LTL, Truckload, Time-Critical Guaranteed, and Final Mile. Backed by nearly 90 years of industry expertise and financial stability, Estes delivers a better customer experience through flexibility and improved technology to best meet rapidly changing freight transportation needs. The Richmond, VA-based, fourth-generation company operates one of the newest fleets in the industry, and understands that its nationwide team of over 19,000 employees is one of its strongest assets.