Company History
Top-quality transportation solutions since 1931
Throughout the years, high integrity and an unwavering commitment to our customers have guided our growth from a small, one-man operation to a financially stable, top 25 carrier in the industry.
From a used Chevy truck in rural Virginia…
Estes' history is the stuff of transportation industry legend. In rural Virginia during the Great Depression, W.W. Estes sought additional ways to support his family, so he bought a used Chevrolet truck with a missing windshield. Sitting on a crate and looking through an old window sash, he began hauling livestock to market for his neighbors. Pretty soon, he was also transporting farm supplies and other goods between farms, to small towns and to bigger cities. He hired his first driver in 1932, and the next year, opened an office in Chase City, Virginia. By 1937, he'd hired at least one more driver and officially named the company Estes Express Lines.
Those early days were not easy times. "When trucking was in its infancy back in the 1930s, and when they first introduced the very complicated business of regulation, you had to be determined," says current CEO Robey Estes, W.W.'s grandson. "You worked long hours and all angles. You drove, you dispatched, you loaded."
…to a future marked by financial stability, improved technology and a strong family-oriented culture.
The Estes family still owns and operates the company, and today, we're the largest privately owned LTL carrier and one of the largest less-than-truckload and truckload transportation systems in the U.S.
We have an employee base more than 18,000 men and women strong, and an increasingly newer fleet of more than 7,000 tractors and nearly 29,000 primarily logistics-bar trailers. Our network has grown from a single location in one state to over hundreds of terminals with coverage in all 50 states, Canada, Mexico, Puerto Rico, and the Caribbean. And our extensive network of air, ocean and ground services through subsidiary Estes Forwarding Worldwide means we can ship to virtually any destination around the globe.
If W.W. could see Estes today, he might be amazed at how it's grown, but he would certainly be pleased that the growth was driven by the same values of hard work and customer service that he introduced. Since that first run, creating satisfied customers and striving for excellence has always been The Estes Way.
"What I tell our customers are three things: we're a regional company with a nationwide footprint. If you have a transportation need, we have the capabilities to help you. And finally, while we are a fairly large company, we have a small company mentality. With us, you're working with a financially strong, ethical company that stands behind their product. You can have confidence doing business with us." – Rob Estes, President and CEO
W.W. Estes makes his first delivery with a used Chevy truck.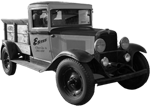 First home office on Main Street in downtown Chase City, VA.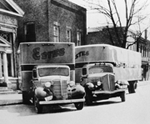 Motor Carrier Act regulates interstate trucking.
Officially christened "Estes Express Lines."

Branch terminals in Richmond, VA, and Norfolk, VA, are opened.
W.W. builds a second home office/terminal on Sycamore Street in Chase City, VA.
Additional operating territory acquired in Virginia's Northern Neck from Bristow Lines.

Home office moves to Richmond, VA, to handle booming post-war business.
Company is incorporated on November 23 as Estes Express Lines.
The home office moves a few blocks to Gordon Avenue to provide much-needed space.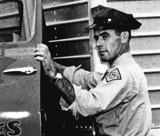 W.W.'s son, Robey Estes, Sr., (on left) becomes general manager.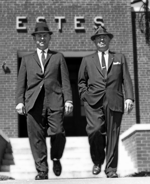 First official safety program rewards drivers for improving safety records.
Four new terminals added in northern, southwestern and southeastern Virginia.

$1.1 million annual revenue by year-end.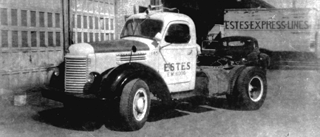 A "Hoot 'n Holler" party-line phone system improves communication among terminals.
Coastal Freight Lines purchase—Estes' first interstate trucking venture.
Carolina-Norfolk Truck Lines purchase adds four new terminals in North Carolina.
Company's first computer, the IBM 029, handles accounting and payroll functions.

Company mourns the loss of its founder on June 29. Robey Estes, Sr., becomes president.

Purchase of A.C. Express and Johnson Express expands Estes' rights in the Carolinas.
Pollard Delivery Service authority purchase expands territory into Maryland and Washington, DC.
Bestway Express purchase opens up the rest of South Carolina.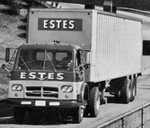 Palmer Motor Express purchase for authority into Savannah, GA.
Interstate partial deregulation enables the company to grow at its own rate. Operating authority extends everywhere east of the Mississippi River.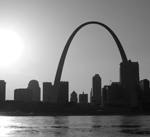 First desktop computers in both the terminals and home office.
Robey, Sr.'s son, Robey W. Estes, Jr. (Rob), becomes general manager.

The third generation of the Estes family to guide the company, Rob becomes president.
$100 million annual revenue

$200 million at year-end doubles the revenue in three years.

Estes develops exclusive agreements with G.I. Trucking and Lakeville Motor Express.

www.estes-express.com is launched.
ExpressLINK network is born—Estes, G.I. Trucking, TST Overland Express and Lakeville Motor Express.
Gold Medal Expedited Service—guaranteed, on-time delivery.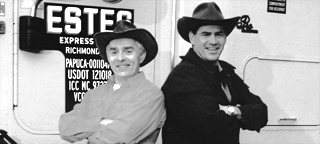 St. Louis, MO—first terminal west of the Mississippi River.

Truckload service—"Just-In-Time" and high volume shipping services.

Southwest network—Texas, Oklahoma, Kansas and Missouri.

My Estes launched—password-protected tracking portion of the www.estes-express.com website.

Estes Caribbean Services—direct coverage to Puerto Rico, St. Thomas and St. Croix.
Joint purchase of G.I. stock from ABC Corp. by Estes and G.I. Trucking senior management.

Purchase of Allen's Expedited's assets and operations adds warehousing and expedited services.
Estes Integrated opens—transportation system analysis, design and management.
Estes begins service to major commercial markets in Mexico.

Three Family of Services groups are added: Estes Air, Estes Warehousing and Estes Innovative (custom and expedited services).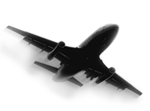 $1 billion annual revenue

Tropical Storm Gaston dumps 14 inches of rain in less than 8 hours; destroys ground-level data center in Richmond.
Complete acquisition of CA-based G.I. Trucking

New real-time technology connects customers, trucks and docks.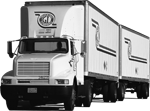 The company celebrates its 75th anniversary and, on August 30, mourns the loss of Robey W. Estes, Sr., who dies at age 85.

Estes opens 12 new terminals in '06 to grow delivery network and enhance customer service.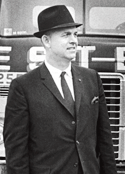 Company expands direct service to all 50 states.
Nationwide launch of Estes Brokerage service.

Estes establishes a nationwide footprint with addition of 13 new terminals in six Upper-Midwest states.

Estes becomes the first major LTL carrier to become TSA-security compliant.
Major investment in transportation industry real estate to grow investment network of properties.

Expansion of Mexico service.

Focus on technology with redesigned website, new e-planning tools and handheld computer upgrade.

Network reengineering to cut transit times and reduce handling.
Estes begins adding tractors with roll stability control systems to its fleet.
Launch of Estes SureMove®, affordable out-of-town household and business place moving services.

First steel/slotted Webb Walls in trailers—designed by H. Webb Estes—allow for more efficient use of load bars and straps.

Estes installs solar power systems at two MD terminals.

Estes buys new tractors with advanced collision mitigation systems.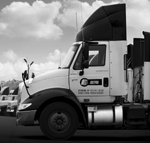 Revenue exceeds $2 billion at year end.
Estes begins efforts to renew its fleet with 40% of tractors less than two years old by year-end.

Solar panel installation complete at Greensboro, North Carolina terminal.
Estes begins Canadian Direct Service and enhances the company's cross-border footprint with 20 Canadian terminals.
Our interactive timeline will take you on a journey of Estes' progress throughout the decades. Simply click the decade on the top to jump to a point in time, or select the year on the left and read about a milestone in our company's history.